FINEO – the

NEW GENERATION

of insulating glass
FINEO is much more than glass technology. It is pure comfort. This pioneering vacuum-insulating glazing not only delivers astonishing energy performance, but also combines exceptionally high thermal insulation with impressive noise reduction and unprecedented sustainability in one superb product. FINEO easily outperforms and outlives ordinary insulating glass.
FINEO – The next generation
of windows
FINEO is the next generation of vacuum-insulating glass with unrivalled thermal performance. Consisting of two panes of glass separated by a vacuum gap, FINEO glass is 12.5% more energy efficient than a 36mm triple glazed unit.
FINEO – cutting technology
Open new possibilities in vacuum-insulated window glazing for both new build projects and refurbishment of existing windows. FINEO uses a new glass technology to create the very latest generation of glazing that has an insulation value similar to that of triple-glazed windows, but is as little as 10mm thick (a fraction of the thickness of triple-glazed windows) and exceptionally lightweight. In addition, the production of FINEO glass is based on sustainable principles.
A new level in home comfort
With FINEO insulating glass you will feel much warmer compared to single or double glazing. Why? Due to FINEO's exceptional low u-value, the internal pane is warmer, which in turn eliminates draughts and cold spots. As FINEO is so thin, you also benefit from more daylight than with triple glazing, allowing you to enjoy more natural light during the darker months.
Ultimate slim design for maximum indoor comfort
FINEO combines best in class performance with appealing aesthetics. Its slim profile means it can integrate seamlessly into existing frames or into new windows and curtain walls.
Unlike previous vacuum glazing technologies, AGC's unique product has no evacuation port to obstruct the view and has very thin edge seals, ensuring maximum vision area.
AGC delivers the most advanced vacuum insulating glazing technology yet, optimising indoor comfort by outperforming conventional insulating glazing.
Figures in table are glass unit performance.
Strategic partnership between FINEO and Masterframe
AGC Glass Europe and Masterframe form a strategic partnership to bring FINEO vacuum insulating glazing for PVC-U sash windows to the UK market. Discover more about this partnership.
Register your interest
FINEO is the insulating glass that keeps on giving.
To find out more technical specifications on FINEO glass, and to discover more on how FINEO insulates equally as well as triple glazing, download the brochure by clicking the image below.
Our sales team are also happy to help with any questions, by using the form opposite.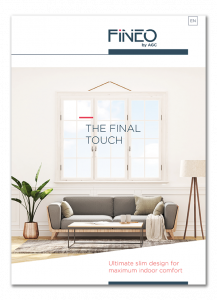 Our experts at Masterframe will be delighted to answer any of your questions about FINEO glass technology.
Just leave us a message and we will be in touch.
"The communication and customer service has been excellent". - Mrs B – Guildford

"These windows are a premium range but secure, A rated and have a very authentic grained appearance." - GP – Essex

"The conservation officer had to be told that these sash windows weren't timber!" "They're a perfect match for the old ones and for our period property, but are more secure, retain the heat of the room and look great inside and out." - Mr D W – Stoke

"We wanted someone we could trust. Having the double guarantee and back up of bygone themselves was the final reassurance we needed but we shouldn't have worried. Will get them back again next year when we can afford some more" - Mr C K - Derbyshire

"WE DESPERATELY WANTED TO RETAIN THE INTERNAL SHUTTERS" - MRS S.B - OXFORD

"The windows are lovely, the service and installation were excellent, and we're now going to have the rest of them done" - Mrs C. J – Brentwood