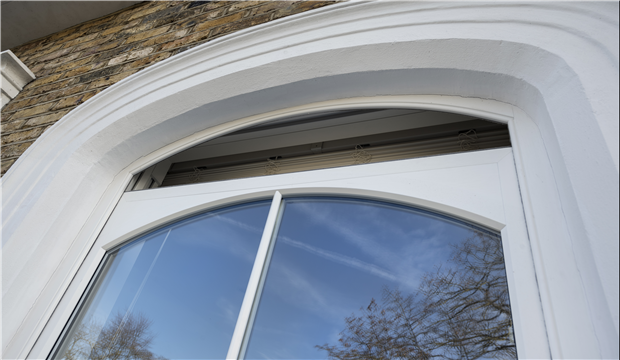 ARCHED EXTERNALLY SQUARE INTERNALLY – WE HAVE A SOLUTION FOR THAT
It might be that your original timber sash windows are arched on the outside and square the inside.  This particular style of window is very common in the London area and although not mentioned in the history books, is believed to be more Victorian than Georgian. Masterframe, manufacturers of the Bygone Collection have named this window the London Sash Windows and Frame.
As innovators, over the years, Masterframe has approved upon its original design, the production method has been refined and best method of production adopted.  Customers can now have perfect low maintenance, timber alternative sash windows with a full house of traditional features.
Matching the originals, with a like for like aesthetic, including this unique sash and frame design, slim meeting rail, and woodfoil finish make the windows suitable for use in conservation areas.
Apart from the low maintenance aspect and the money saved over time, your added financial advantage is that because the London Sash Windows and Frame fits the shape of the original architecture and incorporates all the original traditional features, the value of the property will be maintained.
Carol Slade, Managing Director for Masterframe Windows says "Manufacturing the London Sash and Frame is like making a wood product that is bespoke and hand crafted.  Fabricators that work on this design are specifically chosen for their attention to detail and there are currently no other PVC-U sash window manufacturers that are able to offer this unique style of window.
Equally, our Bygone sash windows are installed by professionals who are chosen for their attention to detail and expertise in installing our windows.  This installation done by the Barnet Window Company, a top Bygone Approved Installer is testament to their skills."
All Bygone sash windows come with a choice of beautiful bespoke furniture in a range of designs and colours and windows can be colour matched to all leading brand paint supplier colours.
You can read more about the Barnet Window Company or download the Bygone Collection brochure for more inspiration and to view all your options.
---