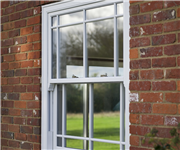 BURGLARY ALERTS FOR VULNERABLE SASH WINDOWS
According to an article that appeared in the Gloucestershire ECHO on 14 December 2015, it was reported that "Police are warning homeowners with sash windows to be vigilant after a spate of burglaries in Cheltenham.
There have been 24 burglaries and attempted burglaries at properties with sash windows in Montpellier, Lansdown and Tivoli in the past five weeks.
Police are urging residents with this type of window to be on their guard as they are particularly vulnerable to becoming a victim of burglary."
We can assure our customers that Bygone Collection windows will offer peace of mind by protecting your home and loved ones against intruders!
All Bygone sash windows are PAS24/ Secured by Design as Standard.  In fact it was our design team that assisted the BSI (British Standards Institution) to write the standards to which all sash windows should be tested for security.  The Bygone Collection sash window was the first sash window (of any material) to pass BS 9750 (the predecessor to PAS24) in 2006 and shortly after that it obtained the Secured by Design endorsement, the preferred police specification.
To pass the test, Bygone sash windows were subjected to vigorous attacks, with each corner and locking point being tested in turn.  Unlike many inferior systems where keeps are simply screwed to the glazing beads (which takes seconds to break into), ours are secured directly into the steel reinforced sash frame.
If you examine the claw lock section of Bygone cams you will notice that they are handed which means that when two are fitted they come as a left and right handed pair.  This helps to centralise the sashes in the frame preventing them from being forced to one side.
The locking keep is screwed into the meeting rail using four fixing screws, two vertically and two horizontally to maximise the resistance to the shear forces
On the top of the top sash there are two metal rider blocks which hold the top sash in place so that it cannot be moved backwards and forwards.
Secured by Design has had many famous endorsements such as that given by Boris Johnson, Major of London who said "The approach taken by Secured by Design has helped to prevent burglary and other crimes that affect Londoners and I am proud to recognise their contribution to the safety of the capital to date, which was evident during the Olympic and Paralympic Games in 2012".
The Bygone Collection is proud to have earned the right to carry this accreditation which is the UK's Official Police Security Initiative.  This guarantees our customers that our sash windows are designed and engineered t with maximum security in mind.
---