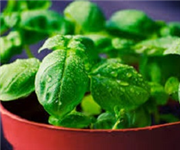 CREATING A SPRING HERB GARDEN
Follow a few easy tips and reap the benefits of a constant supply of your favourite culinary delights in your herb garden.
Pick the right spot, your herbs will enjoy strong light and between 6 and 8 hours of direct sunlight with a temperature between 60 and 70 degrees.  You will find that South facing windows will be best for this purpose although east or west facing windows should also be fine.
Some herbs such as Mint, Parsley and Chives require less sun and can thrive with less than 6 hours sunlight.
Invest in the best indoor potting mixture and herb pots you can find.  Ensure that the pots have adequate drainage; herbs do not take well to be left standing in water.  The right choice of pot will depend on the humidity level in your home.  Ceramic pots retain water whilst clay pots will soon dry out.
 Herbs will do better if planted in separate pots and require good circulation to flourish.  Re-arrange your pots frequently and make sure there is enough space between each pot for air to circulate.
It is best practice to water infrequently, yet thoroughly and to use a marine based fertiliser.
Ensure that the leaves do not touch the glass as they could burn as the glass heats up on warm day.
 Good choices for a window cill garden are Rosemary, Basil, Thyme, Coriander and Sage.
Your indoor herb garden will look pretty as a picture on the cill of one of our beautiful Bygone windows.  To find some more inspiration on how our windows can enhance your home download our brochure here
---