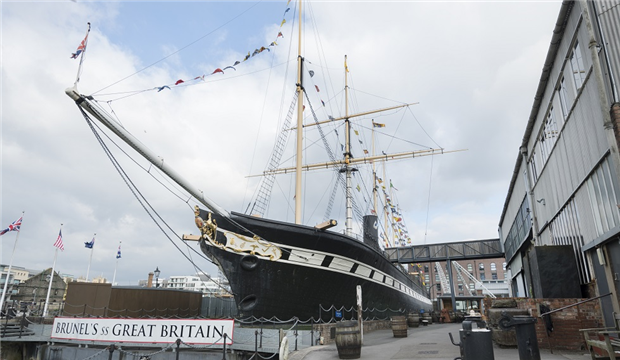 ITS ALL ABOARD FOR THE NEXT BYGONE PARTNER EVENT
The next general meeting for the Bygone team and their Premier Partners in May is to be held within view and later on board a most historic venue.
Carol Slade, Sales & Operations Director says "It stands to reason that when looking for a venue to host our esteemed Premier Partners that we were delighted to discover the Brunel's SS Great Britain.  Known as one of the most important historic ships in the world, it fits with our passion for all things authentic and original and is the perfect setting for a day's conference followed by an evening on board with fine dining in elegant surroundings."
Originally built to be a passenger ship and known as the world's first great ocean liner, after 30 years she was converted to a cargo ship and carried exports such as wheat and coal between England and the West Coast of America.  Subjected to the most ferocious sea conditions, in 1886, the SS Great Britain was badly damaged off Cape Horn and taken to the closest refuge point being the Falklands Islands.
Due to the high cost of repair the ship was sold to the Falkland Island Company and left to a dubious future.  Eventually, after years of abandonment, Ewan Corlett, a naval architect managed to put together a salvage team to refloat the SS Great Britain on 13th April 1970.  Sitting on a floating pontoon pulled by tugs, the ship was finally brought 8000 miles home to her original birthplace in Bristol.
Carol continued "We very much look forward to treating our Premier Partners to not only a conference filled with new innovations and ideas but to an evening where they can relax and enjoy   making acquaintance with this wonderful relic from the past  whilst enjoying a memorable dinner with our team and their fellow Premier Partners".
Bygone sash windows are exclusively marketed through the Bygone Network of Premier Partners Nationwide.   Find your closest installer.
---