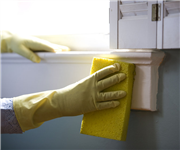 MAGICAL HOME SOLUTIONS
Sometimes the old fashioned way is best and there are solutions for everyday challenges in the home that do not come loaded with chemicals and a hefty price tag.  This time we will give some tips on how to take care of some common areas in the home that could be in need of some attention or swift action in the case of a mishap.
WOOD & VINYL FLOORS:
If you have black heel marks or crayon marks on your vinyl floors, dab with some toothpaste and a damp cloth.
Turpentine used with fine steel wool will remove stains from wooden floors.
Use this recipe to clean and condition hardwood floors:
4 cups of liquid paraffin
1 cup cheap salad oil
½ cup of turpentine
¼ cup of ammonia
Mix the above using 4 parts water to one part of the above mixture.
The above is then rubbed on to the floor and rinsing is not required.
CARPETS:
To brighten faded carpets sprinkle with a generous amount of salt and leave to work for an hour before vacuuming.  This solution will also work for muddy paw prints.
Banish grease stains by sprinkling bicarbonate of soda on to a carpet and leaving for one hour before vacuuming.
Remove red wine stains by taking rapid action and rubbing on the white wine.  Unfortunately this will not work the other way around!
WALLS & CEILINGS:
Use this recipe in a squeeze bottle which creates a mild solution to clean painted walls and woodwork:
2 cups of warm water
1 teaspoon of bicarbonate of soda
4 teaspoons of ammonia
2 teaspoons of white vinegar
Rinse with cool water
---