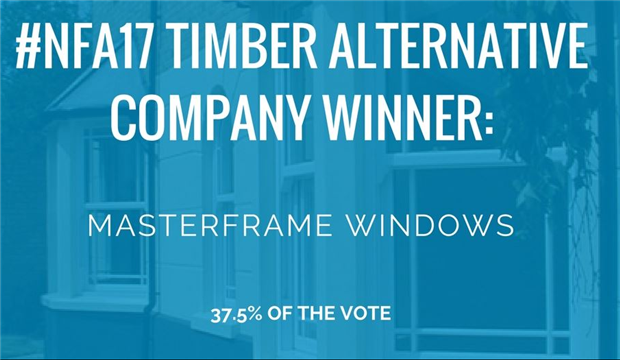 PRESTIGIOUS INDUSTRY WIN FOR BYGONE MANUFACTURERS
The Directors and team at Masteframe Ltd, manufacturers of the Bygone Collection are absolutely delighted following the news that they had won the Timber Alternative Window Company 2017 National Fenestration award.
According to the Fenestration Awards website "companies eligible for the timber alternative category are those who fabricate or install PVCu or aluminium window and door products that aim to replicate their timber counterparts. Systems companies can also be part of this category, so long as they are producing a range of window and door profile that aims to replicate their timber partners. All companies must also operate in the UK fenestration market."
Carol Slade, Sales & Operational Director said "We are so proud to receive this award because the award is won on number of votes received from our Bygone Network of installers and trade customers so we are most grateful that they truly believe in our product enough to take the time out of their busy schedules to help us win this award.
We have been confidently marketing our windows as the best low maintenance alternative to timber sash windows whenever we have the opportunity to communicate with the retail customer.  We are always so encouraged when customers call in at our showroom or visit us at a show to view the windows and are surprised they are not timber.  They are also always genuinely impressed with their authenticity, beauty  and suitability for installation in Conservation Areas .
This award makes us even more confident that what we are offering is the best timber alternative sash window in the market and that our customer believe that as well."
Read more about our products here or download our brochure for some inspiration.
---