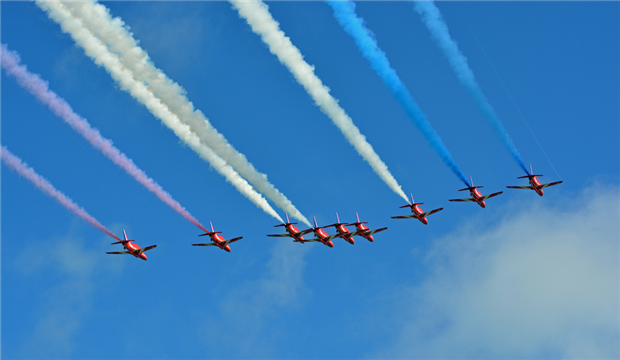 RAF CELEBRATES ITS CENTENARY ON 01 APRIL 2018
It was King George V who authorised the formation of a new branch of the British military on 01 April 1918.  This was a historic moment as the RAF was destined to play a vital role globally in the years to come with the pilots of the Battle of Britain saving the nation and the world from what could have been a very different future.
There were many developments and landmarks for the RAF over the years and here are some interesting facts from the earlier days: –
21 April 1918 –  'The Red Baron', Baron Manfried von Richthofen, a fearsome First World War pilot was shot down and killed.
05 February 1920 – The first ever 52 cadets enrolled at the RAF College Cranwell.
05 March 1936 – A prototype of the legendary Spitfire flew for the first time.
28 June 1939 – The Women's Auxiliary Air Force is created and the new division serves as part of frontline radar units and at Fighter Command.
11 March 1940 – The first enemy U-boat is sunk by Bomber Command, 6 months into the Second World War.
04 June 1940 – An RAF victory, nothing short of a miracle when 316 663 troops are evacuated from Dunkirk.
10 July 1940 – The Battle of Britain begins and results in a momentous victory for the RAF which changes the course of the war.
16 – 17 May 1944 – Bouncing bombs are used by Squadron No617 to destroy German dams.
20 September 1952 – Jean Lenox Bird is the first woman to earn her pilot's wings.
06 May 1965 – The Red Arrows, the aerobatics display team makes its debut.
01 April 1969 – The Harrier, the first fighter aircraft with vertical/short take-off and landing capabilities enters service.
19 July 2012 – a new era in air combat dawns when the Ministry of Defence takes delivery of its first F-35B Lightning stealth fighter.
From April through to September this year the RAF will be conducting many events and air shows to celebrate their centenary year starting with a gala concert at the Royal Albert Hall in March and ending with to the Duxford Battle of Britain Air Show in September.
Interestingly, although we are not celebrating our 100th birthday just yet, The Bygone Network is celebrating a 20th birthday and we will celebrate all year with a series of promotions to make it easier for customers to own our beautiful, authentic windows.
To find out more about what makes our windows so special, download our brochure here.
---