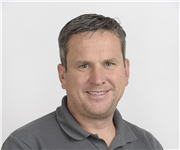 ROB WALTERS COMPLETES LONDON MARATHON
We are delighted that Rob Walters of Derwent Sash Windows, our Premier Partner, has faced a tough challenge and completed the London Marathon in the very respectable time of four hours and ten minutes.
Prior to the event Rob said " I am unfit, overweight, and the 800m at school is the longest event I've ever entered, so the London Marathon will be a tough challenge, but hopefully one you can support me in."
Rob's decision to run the marathon was inspired by his determination to support the Teenage Cancer Trust that has supported his 14 year old son Lewis who was diagnosed with a form of leukaemia last year.  Rob said "The Teenage Cancer Trust Ward at the QMC Nottingham has been, and will continue to be a big factor to his full recovery over the next three years of chemotherapy."
According to Teenage Cancer Trust "We are the only UK charity dedicated to improving the quality of life and chances of survival for the around 7 young people aged between 13 and 24 diagnosed with cancer every day.  We build specialist units within NHS hospitals bringing young people together to be treated by teenage cancer experts in a place designed just for them.  We want every young person with cancer to have access to this specialist support, no matter where they live.
Traditionally treated alongside children or elderly patients at the end of their lives, young people can feel extremely isolated during treatment, some never meeting another young person with cancer.  Being treated alongside others their own age can make a huge difference to their whole experience.  We rely solely on donations to fund our vital work."
Thank you to all our other Byogne Installers and friends that supported Rob with sponsorship.  If anyone would like to make a further donation visit www.teenagecancertrust.org to find out how.
---