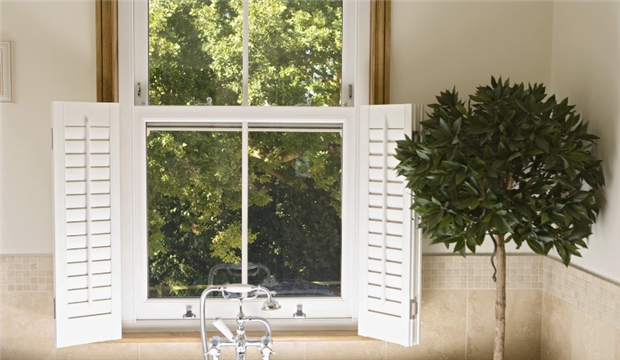 SASH WINDOWS AND SHUTTERS – THE PERFECT COMPANIONS
Apart from their beauty and style, sash windows offer a huge range of health benefits and are the best choice for efficient natural ventilation.  The perfect partners for sash windows are shutters which are also really stylish and sophisticated, allowing you to control your lighting and adjust levels of privacy with ease.
Bygone sash windows are Energy Savings Trust accredited which means they are independently rated as energy efficient and shutters are well known for reducing heat gain in the summer and heat loss in the winter, this is great synergy.
As with Bygone Collection sash windows, shutters are a bespoke product coming in a range of colours, finishes and styles to suit your home.  You have the same flexibility with the colour and style for your sash windows so you can choose the right companion windows and shutters for your decor.  Both sash windows and shutters will complement period style homes, contemporary new build settings or other modern environments.
Our Bygone sash windows are very easy to operate and come with a handy tilt facility for easy cleaning and shutters are also simple to adjust and clean.  Both Bygone PVC-U sash windows and shutters are low maintenance, requiring only light routine cleaning to keep them looking at their best.
Whilst guarantees on shutters vary with market leaders offering 5 years, the Bygone Collection has a full 12 year guarantee which is the most generous in the industry and matches the quality and craftsmanship that comes with your investment.
For some inspiration and to read about all your sash window choices, download the Bygone Collection Brochure here.
---