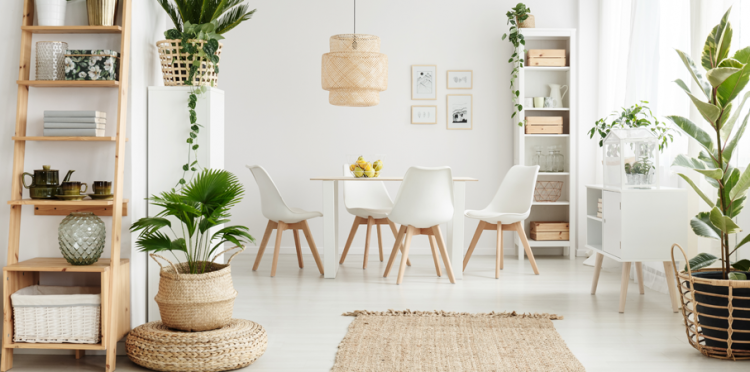 SCANDINAVIAN STYLE
Scandinavian design is defined by simplicity, practical yet attractive solutions and beautiful creations is ever popular and the high street has embraced Scandi style from fashion to home wear.
White walls, wooden furniture, accentuated with copper and accessories in natural textures have become a trend.  Nordic décor concentrates on the use of light together with earthy tones and the distinct absence of ornamentation creating an atmosphere of serenity.
Although this is a minimalist style, it can come with a high price tag, but there are many ways to integrate one of the many Scandinavian styles into your home without spending a fortune.  Here are a few ways to incorporate some of the style basics: –
Floors would be wooden, preferably light or even white and would be throughout with the exception of the bathrooms which would be tiled with underfloor heating.
For colours, consider all the neutral shades of nature, the greys, silver, white, sands and creams which can be contrasted with the darker shades of brown, black, sea green and indigo blue.  For fabrics, consider natural linen for sofas, natural silk for bed linen and fine chiffon for drapes.
Lighting is used as a design feature and can be industrial in style.  In Scandinavian countries, windows are often not dressed allowing the maximum use of natural light. Candle light is popular to add glow and create ambience and candelabras are often found on dining tables and on window cills.
The interior should be liveable but uncluttered with furniture that has clean lines, smooth rounded edges and in all the muted shades.  Natural wood is a popular choice and often paired with metallic finishes to enhance the effect.
There is a trend towards utilising space with multilevel shelving which is again simple, stylish and intentional.  Elegant ceramic vases are a popular decorative accent and cushions with geometric patterns add texture and a touch of colour to neutral sofas.  To create added warmth and a cosy feel, sheep skin, mohair or cotton throws are used.
Fresh flowers and plants are always prominent in the Scandinavian home providing the ultimate accessory by bringing the natural into the home.  Copper accents add another warm touch.
Bygone sash windows fit seamlessly into a contemporary environment and can complement any style of décor. Find out more about our sash window product range.
---