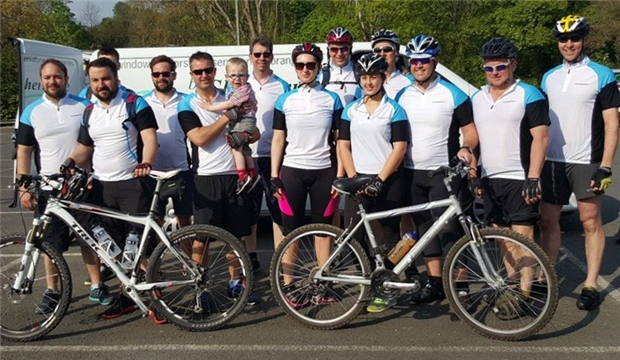 SHERBORNE WINDOWS CYCLES FOR MAX'S MIRACLE
Congratulations to our Bygone Premier Partners for Surrey and Hampshire, Sherborne Windows, who enthusiastically cycled 45 miles on Saturday 7th of May,  from Guildford to Brighton on a very hot day to support a charity close to their hearts.  As a family business the whole team got behind Chris Littlewood who has been with the company for over 15 years to support his nephew Max who is in need of a special operation in the United States.
Claire Long, co-owner and wife of Chris Long the Managing Director had this to say about the day "The team left at 9am with plenty of water on board and with their high spirits packed they peddled along and enjoyed the time to chat to each other.  Often the office is a busy place with lots of phone calls so this precious time was good to reflect and take in the scenery.  They stopped at Shoreham memorial to pay their respects to the eleven men who were killed in the Shoreham disaster in August last year.
Max's parents have explained a bit about Max and what they are hoping to achieve on their website:
"Max was born 22nd of October 2013, and his eagerness to come in to the world meant that he was born 5 weeks early. Because Max hadn't finished developing he suffered brain damage, and as a result now has Cerebral Palsy Spastic Diplegia. This affects Max's ability to move his legs, control his balance, develop his speech and enjoy all the normal activities most children take for granted.
Max is an extremely smiley little boy and has a wonderful sense of humour. He is very loving and we couldn't be more proud of him. We, as parents, want to give Max the best quality of life he can possibly have, as it is heart breaking when he cannot do the simplest of activities with his friends, and he gets visibly distressed. Therefore we are arranging for him to undergo the SDR operation in October 2016 at St Louis Children's Hospital in Missouri, US. Unfortunately as this is a relatively new procedure in the UK, and the NHS trial funding for the operation has dried up, we have no other choice but to pay for the operation, and the necessary follow-up care."
If you would like to make a donation to this very worthy cause, please visit https://www.justgiving.com/miracleformax
---