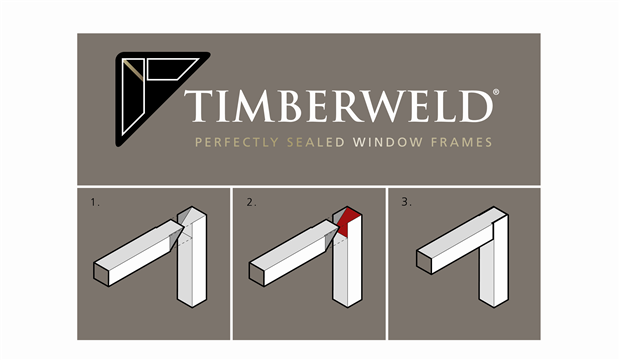 Masterframe Windows: The Timberweld story
Masterframe Windows Ltd, the manufacturers of the Bygone Collection have always understood that when homeowners are looking for the prettiest most authentic looking windows for their home that traditional wood foiled butt jointed windows are the most popular choice.  The challenge however was that most butt joints are open ended, allowing exposure to the elements.
A new method of corner construction was required, one that was to be the perfect balance between aesthetics and technology.   This method would need to ensure that edges could be completely sealed whilst still presenting the appearance of traditional butt joints that customers associate with traditional wooden frames.
In 2005, the technical team, headed up by Ramon Rabett invented the perfect solution for their customers and this was patented in 2005 by Duchy Investments Ltd, owners of Masterframe Windows (UK patent 2 430 720 B).  The Timberweld ® concept is a method of construction which balances the aesthetics of a timber butt jointed corner with the efficiencies and accuracy from welding, rather than mechanically screwing together and gluing corners.  This ensures that the profiles are perfectly sealed with no open chambers.
THE TIMBERWELD® ADVANTAGE IN SUMMARY
The all-important advantage of a product that incorporates Timberweld ® technology is that it is beautiful and authentic, looking every bit like a timber original and giving the impression that it has been lovingly produced by a master craftsman.
The joints are completely sealed from the elements with no open chambers to harbour insects.
Aesthetically, Timberweld ® joints will blend in with all architectural styles, Georgian, and Victorian, and will be suitable for use in both conservation areas and in the most contemporary developments.
Bygone sash windows will be the perfect match for casement windows and doors that are offered with Timberweld ®
If you would like all the advantages of Timberweld ® technology for your home and if you are in the market for sash windows, Harmony and Symphony Bygone windows come standard with the technology and is exclusively available through an approved network of installers nationwide. Find your closest Bygone Installer.
CASEMENTS & DOORS TO MATCH
Because recently in 2016, casement window and door manufacturers have noticed the increase in demand for this authentic and technologically advanced method of corner jointing, Duchy Investments has made licences available to third parties who wish to take advantage of the legal right to offer their customers all the advantages of owning a product that incorporates Timberweld ® technology.  To find where you can purchase matching casements and doors to go with your Bygone windows, please send an e-mail enquiry or call us on 01376-510410.
---