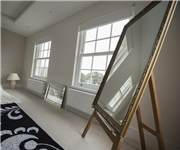 YOU GET WHAT YOU PAY FOR!
Have you ever noticed when you taste something exceptional, if you try on something that just fits like a glove, when a stranger passes and you catch that special fragrance or when you see something in a magazine that you can't take your eyes off, there a common denominator?
You could find this special something in the vehicle that you test drive, the one you must purchase above all others, the restaurant that you visit and leave feeling like a queen, or the revelation you experience when you try a product that fulfils your every expectation and just 'gets you' to such an extent that it is pure genius.
If you then look at the label, or enquire about the fragrance or go online and look for the product you saw in that magazine you will discover  this common denominator, or maybe even two.  These will be the expensive price tag, and in most cases the brand name which will be synonymous with quality.
The price tag will have to reflect all the passion, quality ingredients,  attention to detail, marketing expertise and dedication to excellence that made this product touch your senses in that way.  It will reflect all the years of product development and the associated investment in the many elements that finally resulted in this perfection.
When you experience such a brand, you will feel its history; you will know that it got to this place of being absolutely relevant by continuously evolving, constantly changing and re-inventing itself with the seasons, the trends and the times whilst never compromising its core value of quality.
This type of brand does not need fancy packaging; it is no coincidence that the finest perfumes are the most simply and elegantly packaged.  It is the product itself that speaks volumes.  Competitors, offering cheaper substitutes will claim to be superior, but if you look closely, behind the packaging, the advertising and the hype to reveal the product itself you will see that it is impossible to replicate a truly original and quality brand.  Equally it is not possible to sell the quality brand with a cheap price tag.
At Bygone, we are often in a position where we have to justify our high price tag and quite simply, all the principles applied above relate to our windows.
We have spent years on product development, years focussing on improving and engineering the product so that it stands alone as the most beautiful and authentic timber alternative window in the market place.
If you view our window and then compare it to a cheaper alternative at close range you will immediately recognise the differences.  However, there are many things that you will not see, multiple attributes hidden from view that our Bygone Premier Partner could point out to you.  These are things that make our windows so unique, the investments we have made to bring you a sash window, truly exceptional in its class and totally deserving of its price tag.
To view our windows first hand, please find a Bygone Sash Window Installer near you
---